Event Planning Business
Every weekend of every year there are events going on all around your city. Businesses and corporations also plan events all through the weekdays and weekends all throughout the year. The process of event planning to to gather clients who need help planning upcoming events. In the process of planning your events, you'll be able to charge your clients either a fixed rate or hourly rate for your services. For most projects, you'll want to arrange a fixed rate with your clients.
Finding Clients
You will need to make sure that you have a strategy for building your client base. Here are a few strategies for building clients:
Have a website targeted toward the areas you serve
Online advertising
Direct Mailing
Magazine advertising
Referral clients - typically built by offering good service
Network with service provides in the industry. (photographers, caterers, event rentals, hotels)
Many of the above strategies will help you build up a good client base. One of the best methods you may find when starting out, will be to network with other professionals who can send you clients. This will be very powerful for your business.
Start as an Employee
The easy way to get into this business and build clients, will be to work as an employee in this industry. As an employee you'll be getting paid at the same time that you can be building up your networking and contacts. Remember, that branching out on your own will be greated enhanced by networking with out event planning professionals. The best part will be that you'll be getting paid while you are learning the industry and growing your contacts.
Make Sure you Have a Contract
When you get involve with handling large events for private or corporate events you'll find that a lot of money is on the line. And more than this, your clients will often be expecting to experience timeless memories. If you experience any problems, issues or failures your clients could be upset and try to hold you responsible. So, to prevent this you'll want to disclaim your liability from any issues outside of your control. Also, you'll want to disclaim any all liability if you can possibly get your clients to agree to this.
You may Want to Form a Corporate Entity
This can be a industry that has legal issues from time to time. In order to get a form of protection from liability, you can form an incorporation or limited liability company. The benefit here, will be that if you operate your business correctly you'll be able to maintain a separation between your personal and business assets. This way, if you get sued, the courts will typically only hold your business assets subject in a lawsuit.
Create a Database
You'll want to have a database of event professionals that provide a high level of service. This way, when you refer a photographer you will be able to feel confident that they will provide a great service. You don't want to send out any professionals that you don't have a good background on. If you do this, you will typically experience a few bad providers that will ultimately lead to clients being upset with your service. Remember, the entire event is resting on your shoulders, and ultimately clients will expect you to make sure everything goes smoothly.
---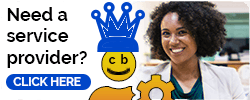 Start a Business
Many business ideas to help you get up and running fast.
Tips & Guides
Use our tips, suggestions and guides to save time and money.
Top Filing States